Big Mac's FINAL home run count: 70!!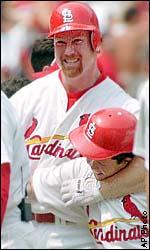 Can you believe this?!? Look... I am not a big baseball fan, but I have always known about 2 important number in baseball: Babe Ruth hit 60 homers in a season, Roger Maris hit 61. Babe hit his 60 in 1927, and 34 years later Roger Maris hit one more than that. That should tell you how hard it is to hit home runs... it's a small ball you're trying to hit with a skinny round wooden bat.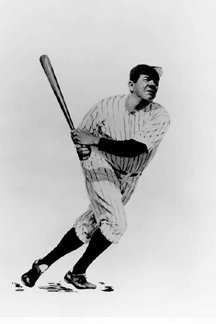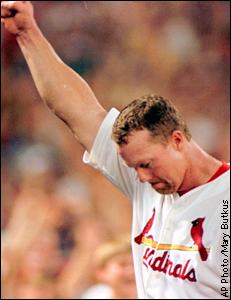 But here's this big nice guy just belting them out of the ballparks across the nation. Mark McGwire hit 62 home runs... his 62nd came 9/8/98 only 145 games into a 162 game season... he may hit more.


Roger Maris had an asterisk next to his name for a long time because he hit 61 homers in 162 games. Babe Ruth hit 60 in 154 games. Mark McGwire will never have that little asterisk. WOW... if I ever need a hitting coach I will give Mark a call.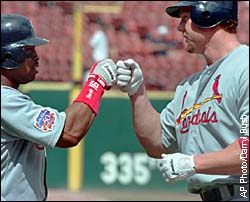 Slammin' Sammy's FINAL home run count: 66!!

Then there's Sammy Sosa, who just hit number 62 on 9/13/98. It's amazing that TWO guys can hit 50 homers in a season, but for two to break the record is totally unbelieveable!! I truly am a Cubs fan when I watch baseball, and I like Sammy Sosa... very great person indeed. Since the Cubs have made it to the playoffs, I think even thought Bic Mac totally demolished the HR record, Sammy Sosa shoudl be the NL MVP.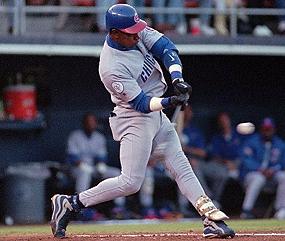 This could not happen to two nicer guys...

OTHER RECORDS OF NOTE:

Cal Ripken, Jr. ended his consecutive games played streak this year at 2,632 games, by far a MLB record.
1998 became the first year more than 2 players hit more than 50 home runs. Big Mac had 70, Sosa had 66, the Mariners' Ken Griffey Jr. hit 55 and the Padres' Greg Vaughan hit 50.
Little known fact: Negro Leagues Josh Gibson hit 75 home runs in a single season.
Sign My Guestbook
View My Guestbook

Purchase Mark McGwire: Race for the Record (1998) for a video tribute to Big Mac's home run race with Sammy Sosa.

Contact info: edzep1971@yahoo.com

[Back to Nationwide Cloud Lobby]
[Back to Goofy Strange Stuff...]